NLJNR20140304
*イニシャル締3月11日22:00
(3月中旬出荷)
10 INCHES OF PLEASURE BABY!
10″のご案内になります。


10 INCHES OF PLEASURE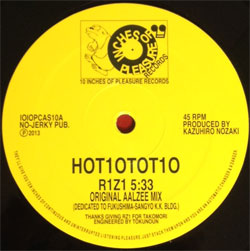 IOIOPCAS10A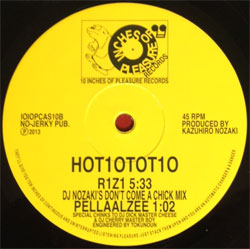 IOIOPCAS10B
[IOIOPCAS10]HOT10TOT10- R1Z1 10″
track listing
a1.R1Z1(ORIGINAL AALZEE MIX) 5'33″
Audio clip: Adobe Flash Player (version 9 or above) is required to play this audio clip. Download the latest version here. You also need to have JavaScript enabled in your browser.
b1.R1Z1(DON'T COME A CHICK MIX) 5'33″
Audio clip: Adobe Flash Player (version 9 or above) is required to play this audio clip. Download the latest version here. You also need to have JavaScript enabled in your browser.
b1.PELLAALZEE 1'02″
Audio clip: Adobe Flash Player (version 9 or above) is required to play this audio clip. Download the latest version here. You also need to have JavaScript enabled in your browser.
R1Z1 FEATURES
-Performed using either the 4 sampled sounds or 12 realistic preset tones of outstanding quality.
-Playback of drum effects with delicate modulation adjustments.
-An auto compensate function automatically makes adjustments.
R1Z1 SOUND LIKE AS R2D2 DREAMED P16D4 PLAYS E2E4!
QUALITY PULSE CODE MODULATION 8BIT!!
FOR ALL MUTHA FUCKERS AND PRESSURE COOKERS WORLD WIDE!!!
仕様:45rpm10″(ホワイトUVスリーブ+インナースリーブ)
dis price予価-JPY
price:open